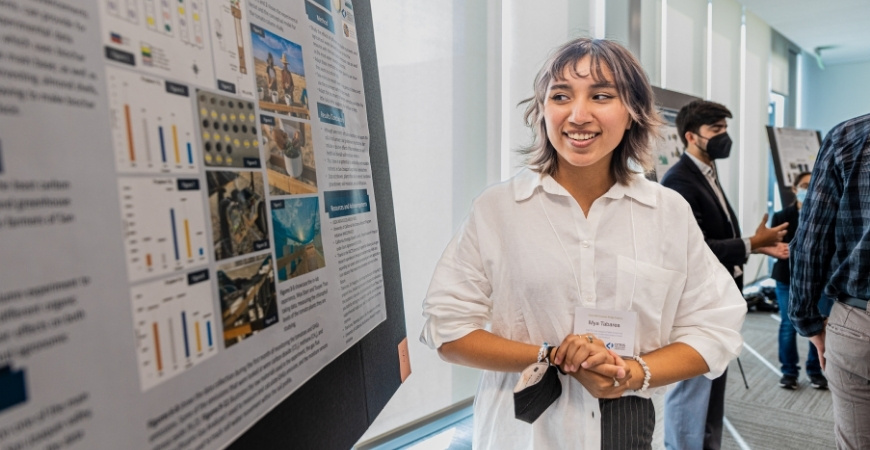 UC Merced students will present research conducted over the summer at the Undergraduate Research Opportunities Center (UROC) annual Undergraduate Research Symposium.
The research presentations mark the end of the Summer Undergraduate Research Institute (SURI), a nine-week program conducted and hosted by UROC. This summer, over 160 undergraduate students worked alongside UC Merced faculty and graduate students to conduct research in every discipline offered on campus.
"This is a milestone event to honor and celebrate our undergraduate researchers' hard work and their personal and academic development," said UROC Assistant Director Valerie Anderson.
The Undergraduate Research Symposium takes place from 9 a.m.-3:30 p.m. Aug. 3 at the UC Merced Conference Center and will feature oral presentations and a poster exhibition. Research projects set out to find answers and results with connections to campus, the Merced community and California.
Presentations include:
Farmworker health in California
Identifying links between domestic well failures, droughts and the food-water nexus in the Central Valley
Investigating effects of climate change and wildlife history on the runoff in the upper Merced River Basin
What characteristics predict a likelihood of engaging in misinformation?
Design and synthesis of proactive organic molecules for energy storage
"This is a great opportunity for our students to develop public speaking skills," said UROC Director Jorge Arroyo. "Although the presentations are not judged, audience feedback is greatly appreciated to help the students prepare for future presentations on campus and at conferences or academic meetings."
Arroyo said many students were first-time researchers this summer, and those who participated in research before are getting more advanced skill development by either continuing a project or moving on to another.
If you would like to attend the Undergraduate Research Symposium, please submit your RSVP online .