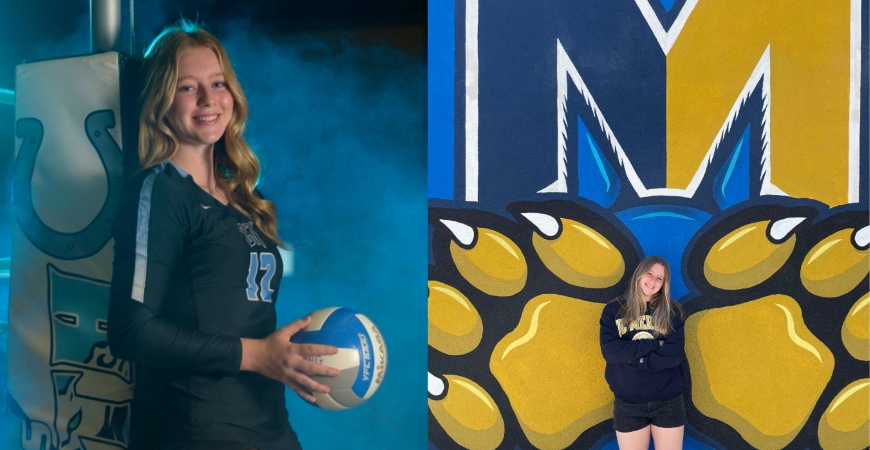 UC Merced is highlighting incoming students for fall 2023 — a dynamic, diverse and accomplished cohort of new Bobcats.
When Clovis native and lifelong volleyball player Morgan Wilson first began exploring her options to play at the collegiate level, her path was not clear. She had several out-of-state opportunities, none of which felt like the right fit.
"I didn't even feel a spark with a lot of the schools," she said.
Then she visited UC Merced.
"The campus really interested me with how nice it is," she said. "Just far enough from home—not too close."
Merced holds a special place in Wilson's heart. It's where she spent a lot of her childhood—her mother's hometown.
"I almost grew up there, you know," she said.
What really sealed the deal for Wilson is when she got to know the women's volleyball program, she would be a part of. She said her decision was made when she met Coach Ai Prachumsri, who has been with the program since 2016. His overall record stands at 80-92, while his Cal Pac record is 66-43. In the spring of 2021, the Bobcats won the program's first California Pacific Conference Tournament championship.
Wilson's looking forward to a fulfilling college experience on and off the court after making immediate connections with her future volleyball teammates.
"I can just tell they are really welcoming and really fun," she said. "I am really excited to meet new friends."
Wilson plans to major in either clinical or criminal psychology. She's looking forward to living on-campus in the athletic housing with her new teammates - a living arrangement where she can partially have her own space but also experience camaraderie with her team.
"So I can get close with them," she said.
The diversity on campus felt inviting to her too.
"I also really liked just how inclusive the campus was everywhere you go, even on social media," said Wilson. "It kind of eases the nerves when you know that everyone has your back."
Wilson will reunite with hometown friend and former volleyball teammate Kyra Miller, who is also starting at UC Merced this fall to play for the Bobcats. The two will have Miller's brother, Toby, a third-year UC Merced Men's Volleyball player, to help show them around campus.
Wilson said representing her native Central Valley on the court makes playing at the college level particularly meaningful and true to her roots. She hopes her athletic experience at UC Merced will be an example for high school volleyball players who are still finalizing their college choices.
"I am really glad to get to represent the Valley," she said. "And hopefully it will bring more Valley kids into Merced."