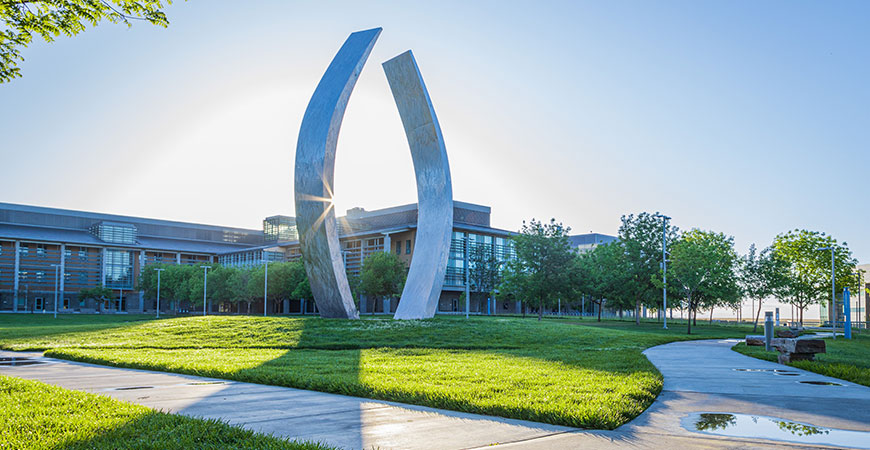 New students or those who have not yet chosen their majors will have an array of options before them.
Five new majors and several new emphases, ranging across all three schools, are all coming online in 2024 and are recruiting students now.
New bachelor's of science degrees:
chemical engineering
data science and computing
public health
New bachelor's of arts degrees:
data science and analytics
environmental humanities
New emphases:
In the mechanical engineering major:
In the political science major:
American politics
comparative politics
international relations
law and policy
In the sociology major:
community studies
health, medicine and society
justice, law and society
race and racial justice
Students who enroll in the public health bachelor's of science program can do so as part of the medical education pathway or as the basis for a multitude of other health care related careers.
"The standard bachelor's of science program has more biology, physiology and nutrition science than the bachelor's of arts major," said Professor Nancy Burke, who led the development of the new major. "We also have a health professionals/pre-med track that incorporates all the preparation students would need to apply to medical school or for any other health professional degree."
Those who are interested in careers in aerospace engineering can now choose that subject as an emphasis within their mechanical engineering degrees. And those in cognitive science can now enroll in that major's new honors program.
Mechanical engineering Professor and Monya Lane and Robert Bryant Presidential Chair in Excellence in Engineering Ashlie Martini said aerospace engineering has been a subject of interest among students and faculty for quite a while.
"Many of our mechanical engineering undergraduate alumni go into aerospace companies already, so it has been something we have wanted to bring to UC Merced," she said. "We are starting with an emphasis, but if we see a lot of students signing up for this, that would encourage the creation of a major."
Faculty have created four new classes for the aerospace engineering emphasis: aerospace structures and materials; flight dynamics and control; aeroelasticity; and aerospace propulsion. Technically, the classes are electives, so anyone in the mechanical engineering major can take them.
Students interested in the growing field of data science have two choices: data science and analytics and data science and computing.
"Majors are really a prescribed set of courses of study and data science is so big and so new, it's not possible to have a one-size-fits-all program," said Professor Suzanne Sindi, chair of the Department of Applied Math, and co-author of the data science and computing major. 
Data science — the availability, collection and analysis of data — has changed every field of study, Sindi said.
"It behooves us to make sure that our students understand not just a domain, or area of study, but that they understand the data that exists within the domain and what you can use it for," she said. "It also helps them understand the world we live in."
The data science and analytics major is also a choice for those interested in understanding this growing field of study.
"Data is at the core of modern-day systems-thinking and decision-making. The DSA major will not only provide an accessible bridge, but one that serves as a launchpad for clearing the digital divide, such that graduates will be well-equipped to think critically and tell stories with data," said management of complex systems Professor Alexander Petersen.
For students who lean more toward engineering, there is the new chemical engineering degree, offered by the Department of Materials Science and Engineering. Professor Kara McCloskey, who leads the chemical engineering program, said obtaining the degree opens a plethora of career paths for graduates.
"It is a popular engineering major, it's considered a traditional engineering major and most of the other UC campuses offer it and industry, including food and beverage industries in the Central Valley, have been asking us when we are going to offer it," she said. "They hire many of our students anyway, but chemical engineering is the right training for many other students they want to hire."
Chemical engineering includes a lot of mass separations, especially at a large scale, which are part of food- and wine-making processes, McCloskey explained.
"There has been a demand for chemical engineers and especially those from the Valley, by Valley industry," department chair Professor Valerie Leppert said. "It helps them retain workers because people can remain closer to family and home."