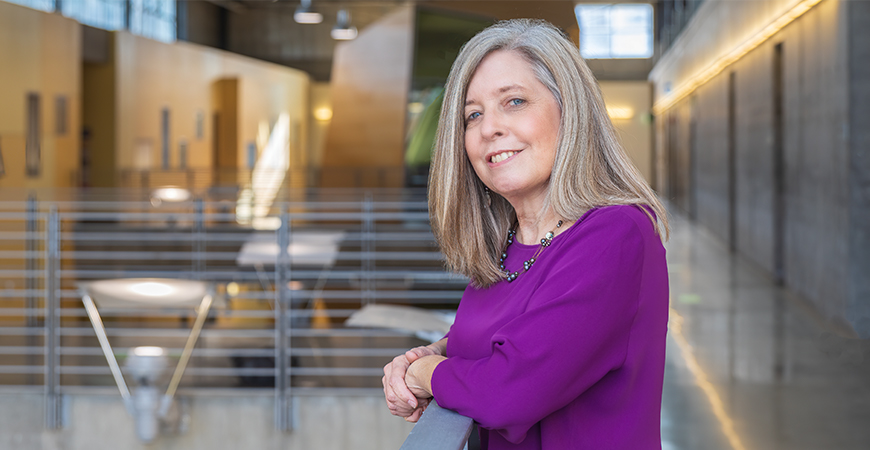 The Society of Behavioral Medicine Child and Family Health Special Interest Group has recognized Professor Deborah Wiebe with a Lifetime Achievement Award for her contributions to child and family health.
She is the Society's second Lifetime Achievement Award recipient from UC Merced's Department of Psychological Sciences, joining Distinguished Professor Jan Wallander, who was recognized for his contributions to the field of pediatric medicine and behavioral health in 2018.
"For us, Deb has always been known as a star researcher and a campus leader; we are delighted to find colleagues across the nation sharing our admiration," Executive Vice Chancellor and Provost Gregg Camfield said.
The award recognizes a researcher and/or clinician who demonstrates a lifetime of dedication to the pursuit of outstanding high-quality research, mentoring and teaching in the field of child and family health, and has established an exceptional body of research that contributes to child and family health behavioral medicine and prevention.
"It's a real honor and I am quite humbled to receive the award, especially when I consider the legacy of people who I admire who have received the award in the past — like Jan and many others who have influenced my own research in such meaningful ways over the years," Wiebe said.
Wiebe joined the campus in 2013 and became the director of the Health Sciences Research Institute (HSRI) in January 2019. Previously, she served as director of research and professor of psychology at University of Texas Southwestern Medical Center.
Her research focuses on the roles of self-regulation and social relationships (e.g., family, peers, health care providers) in preventing and managing chronic diseases, and how these processes change across developmental transitions and sociocultural contexts. Her current work examines families managing Type 1 diabetes during adolescence and young adulthood, but the concepts are general and she has studied other health and developmental contexts, including older couples coping with prostate cancer and parental decisions regarding the HPV vaccine in a safety-net health care setting.
The Child and Family Health Special Interest Group is an interdisciplinary forum for members of the Society of Behavioral Medicine concerned with the health and well-being of children, adolescents, young adults, and families. Members' interests bridge biological, cognitive, emotional, behavioral and social functioning of children and adolescents with a focus on understanding and intervening in the contextual, social and ecological influences on child health and development. Members' research and services are designed to promote maternal and child health, improve pregnancy and birth outcomes, prevent childhood illness and injury, and foster family adjustment to chronic illnesses and other physical conditions that affect the family unit.