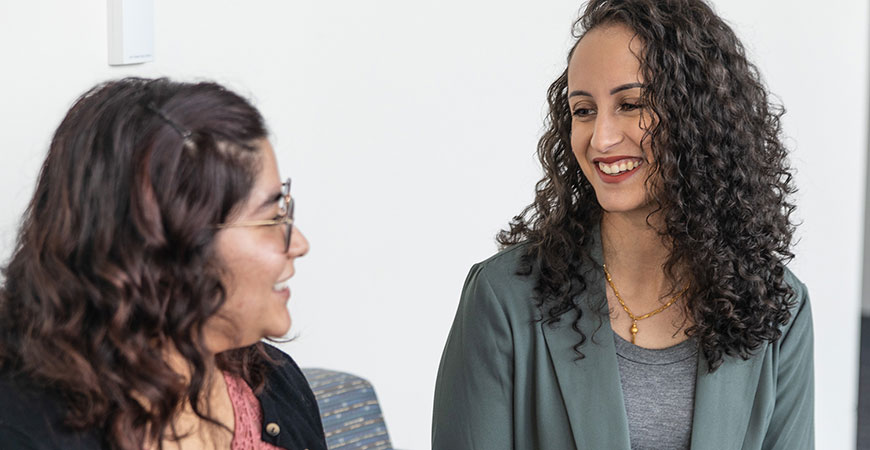 Dania Matos has been at UC Merced for less than a year but is making a big impact as the university's first chief diversity officer. Now two graduate students with small-town roots are helping Matos amplify her message of equity and justice — a message made more urgent by the COVID-19 pandemic.
Hala Alnagar and Maria Ramirez Loyola were hired as the building blocks of a research-and-development arm for the Office of Equity, Diversity and Inclusion (EDI). They are using quantitative and qualitative data, along with lived experiences collected from campus community members, to develop programs, initiatives and toolkits that foster EDI's mission.
Societal disruption triggered by the COVID-19 pandemic has exposed or ramped up problems that Matos's office is determined to address, she said.
"Nationally, we've seen statistics showing the virus's disparate impact on African-American and Latinx communities, many of whom are the faces of 'essential' workers," Matos said. "In our own backyard, there are vulnerable immigrant farmworkers who ensure, at their own risk, that we are still fed."
The EDI team is reshaping the office's initiatives to serve a university spread out and sheltered by the COVID-19 threat.
"We want to help create a virtual sense of belonging and community while simultaneously promoting the resiliency of the university community during this uncertain and difficult time," Ramirez Loyola said.
Matos said the life experiences of her two graduate student researchers contribute to their passion for their work with EDI, one that she shares. Because they both come from communities similar to those in this region, they can understand and relate to many of the students at UC Merced.
Ramirez Loyola hails from Perris, south of Riverside, while Alnagar grew up in Buttonwillow, a town of about 1,500 in western Kern County. Alnagar is the granddaughter of an immigrant who grew his business in an area that relies on cotton crops for many people's livelihoods. She earned a master's degree in sociology at UC Merced after getting her bachelor's in the same discipline at California State University, Bakersfield. Ramirez Loyola is the daughter of a single mother and immigrant. She earned her master's degree in psychology from UC Merced and her bachelor's degree in the same subject from UC Riverside. She's also one of about 600 UC Merced students registered in the federal Deferred Action for Childhood Arrivals (DACA) program. Both of the graduate students are the first in their families to go to college, and both said their backgrounds contribute to their areas of study.
They also share a commitment to helping develop and participating in initiatives that prioritize providing undergraduates from marginalized or underrepresented backgrounds the information and mentorship they might need to stay at UC Merced and pursue a graduate-level education.
One of the EDI's front-burner tasks is to help UC Merced recruit and retain faculty and staff members more closely aligned with its diverse student body. In fall 2019, 56% of registered undergraduates identified as Hispanic, 19% as Asian and 9% as non-Hispanic white. By comparison, in fall 2018, faculty were 11% Hispanic, 17% Asian and 52% non-Hispanic white, while staff were 27% Hispanic, 10% Asian and 39% non-Hispanic white.
"So, while we have students of underrepresented backgrounds, the students don't often find themselves represented in their instructors," Alnagar said. "It's important to have a shared background."
Alnagar has extracted ideas and trends from transcripts of Matos's numerous conversations with students, faculty and staff since joining UC Merced in July 2019 as part of her 2020 & Beyond: Building and Thinking Forward Listening Tour. Alnagar is working on an executive summary of the tour's findings that will be posted on the EDI site near the end of spring semester.
One of the primary themes from Matos's listening tour is the need to increase equity-minded practices on campus, particularly among administrators, faculty and staff. "The other common response is the desire to build unity between the university and Merced as a whole," Alnagar said, "not only to promote the university's success but to ensure that success goes beyond the campus and into the community."
The COVID-19 pandemic has not derailed their pursuits. Ramirez Loyola, Alnagar and Matos are working remotely and have adapted some of their projects to the current situation. The Virtual Dialogue Series, which covers subjects such as personal branding, storytelling and creating empathic dialogues is going on now, and weekly community mindfulness meditation sessions start April 30. Matos also moved her monthly drop-in hours to a virtual space by scheduling meetings on Zoom. The EDI team also continues to work on overall strategic planning.
Alnagar and Ramirez Loyola continue looking forward to the practical applications of their work.
"A lot of the research we've done before is often just circulated around academic circles," Alnagar said. "What we'll do here is take the data and present it in an accessible way to the broader community so they can see what needs to be done."
Both aspire to be campus diversity officers someday, and Matos is more than happy to mentor them and show them what the job entails.
"I think of them as thought partners and EDI leaders," she said.