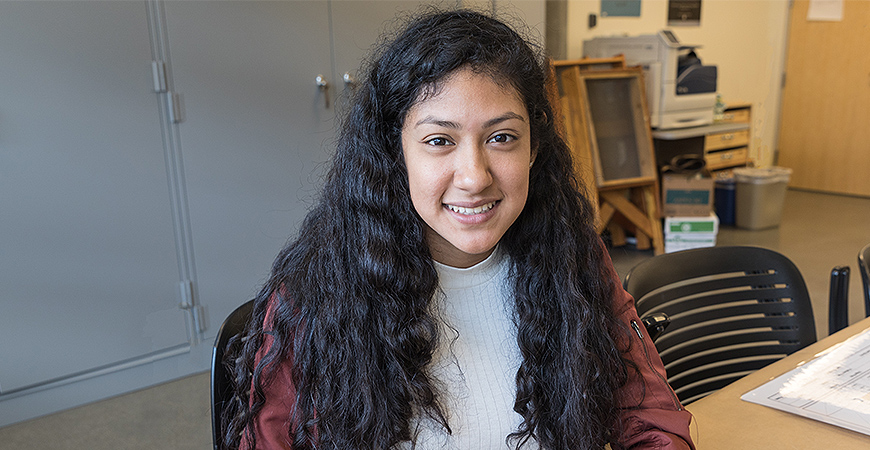 Graduating senior Araceli Perez was looking for a new environment when she moved from Hacienda Heights to attend UC Merced in 2015.
The shift from the high-intensity region of Los Angeles to the more relaxed atmosphere of Merced was more than a change of pace. In her four years at UC Merced, she always welcomed the chance to experience something new — whether that was cheerleading or back-packing for an archaeological project in the Sierra Nevada.
"One of the biggest things being at UC Merced has taught me is that there is always room for growth," said Perez, a double major in anthropology and psychology. "It's always a good thing to look back and see how far you've come."
On May 19, Perez has a chance to reflect on those experiences at commencement ceremonies for the School of Social Sciences, Humanities and Arts. Her next academic move is graduate school; Perez plans to take a year off to explore potential programs and decide which discipline she'll pursue.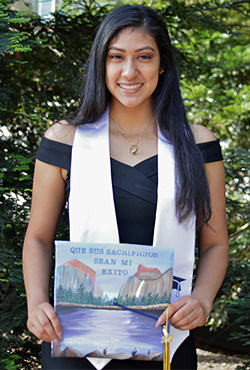 In July 2017, anthropology Professor Kathleen Hull hired Perez as an archaeological intern based on her performance in the Lithic Artifact Analysis class. Now she's leaning toward anthropology after loving her first backpacking experience.
Perez was part of a team that conducted archaeological excavation for a wilderness evaluation project in the Sierra Nevada back-country. It was a 10-day trip, including four days to backpack in and out of the area.
"It was a pleasure to have Araceli working with me on the Yosemite project — she was observant, skilled, thorough, diligent and game for whatever tasks needed to be completed," Hull said. "The entire crew enjoyed working with her and we were impressed with her eagerness and ability to do new things."
Perez, an avid hiker, said that work spurred more interest in outdoor activities and the branch of archaeology in anthropology. Following the trip, she also worked to catalog, analyze and photograph the site collections.
"It was a new experience for me, and something I hadn't considered before," she said. "I didn't really picture being able to do that, but I enjoyed it and the lab work."
The sense of community here — it's very welcoming.There are many people who will help you do what you need to do to succeed.
Perez was looking for just those kinds of opportunities when she decided to attend UC Merced after a campus tour.
"It really caught my attention — it was the newest UC and it was small," she said. "I felt like there would be more opportunity."
Throughout her years on campus, Perez made diverse choices — including trying out for the cheerleading squad even though she didn't have any experience.
"I just decided to try something new," she said. Perez spent two years on the team and also worked for two years in on-campus catering.
"I was constantly amazed by her ability to do so many diverse things — from class work to her job on campus to her extracurricular activities — and do them all so well," Hull said. "I don't know how she found the time or the energy, but she clearly is very skilled at pursuing and balancing all her interests."
Perez said UC Merced helped inspire her to work harder academically and to grab hold of new opportunities.
"The sense of community here — it's very welcoming," she said. "There are many people who will help you do what you need to do to succeed."