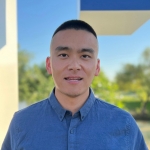 Professional Title:
Assistant Professor of Quantitative Methods, Measurement, and Statistics
Research Interests:
Psychometrics; Measurement Theory; Mixture Modeling; Machine Learning; Causal Inference
Bio:
Dr. Ren Liu is an Assistant Professor of Quantitative Methods, Measurement, and Statistics at the University of California, Merced. He earned his Ph.D. in Research and Evaluation Methodology with a specialization in Quantitative Methods from the University of Florida in 2018. Dr. Liu's work centers around the development of advanced statistical and measurement methods in the field of behavioral and social sciences. He focuses on psychometric theories and their practical applications in measure development and analysis, with the goal of accurately measuring complex latent traits and providing actionable feedback to stakeholders. His pioneering research has been recognized with awards, including the 2017 Distinguished Paper Award by the American Educational Research Association (AERA), the 2018 New Investigator Award by AERA, and the 2022 Rising Star Designation by the Association for Psychological Science (APS). In addition to his primary research in methodology, Dr. Liu is committed to translating innovative methods for applied researchers to promote best practices. He actively collaborates with colleagues on substantive research projects in diverse domains, such as substance use, self-injury, criminal justice, LGBTQ+ groups, patients with ADHD, and children with altruism. Dr. Liu serves as the Statistical Editor of the International Journal of Behavioral Medicine, the Official Journal of the International Society of Behavioral Medicine. He is also the co-chair of the National Council on Measurement in Education (NCME) Mission Fund Committee and the author of the "Anatomy of Measurement," an NCME Mission Fund YouTube Animation Project. Dr. Liu teaches undergraduate and graduate level courses, including Analysis of Psychological Data, Item Response Theory, and Measurement Theory and Psychometrics.